E is for Electric in E-Type Concept
So, you say you watch royal weddings only for the cars? There's no need to feel embarrassed – lots of people do it.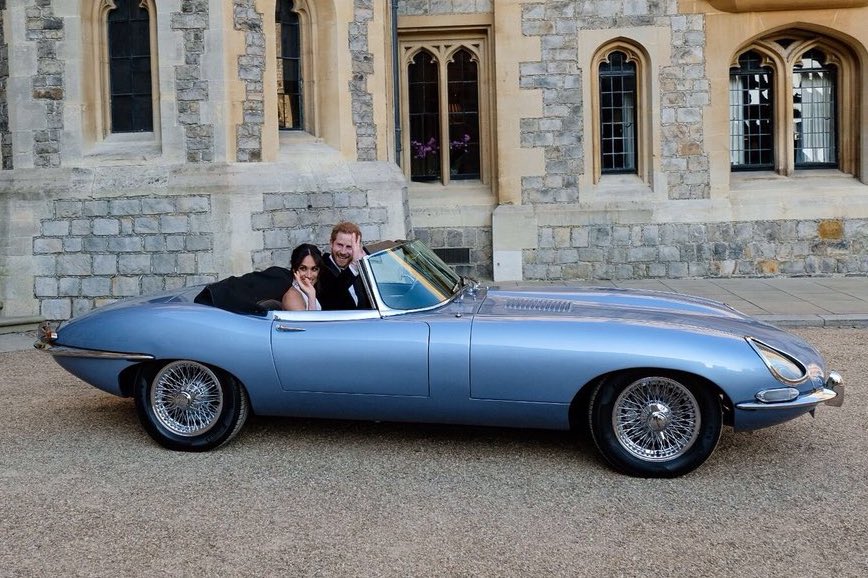 When Britain's Prince William married Kate Middleton in 2011, the royal couple was seen driving to their reception in a deep-blue 1969 Aston Martin DB6 Volante belonging to William's father, Prince Charles.
This past May, Prince Harry and his American bride, Meghan Markle, took the two-mile jaunt from the ceremony at St. George's Chapel to their reception at Frogmore House in Windsor in another classic British convertible, with a twist. The 1968 Jaguar E-Type Roadster emitted no more than a hum as it whisked the couple away. Under the long, louvered bonnet, the classic XK DOHC inline six had been replaced with an electric powertrain.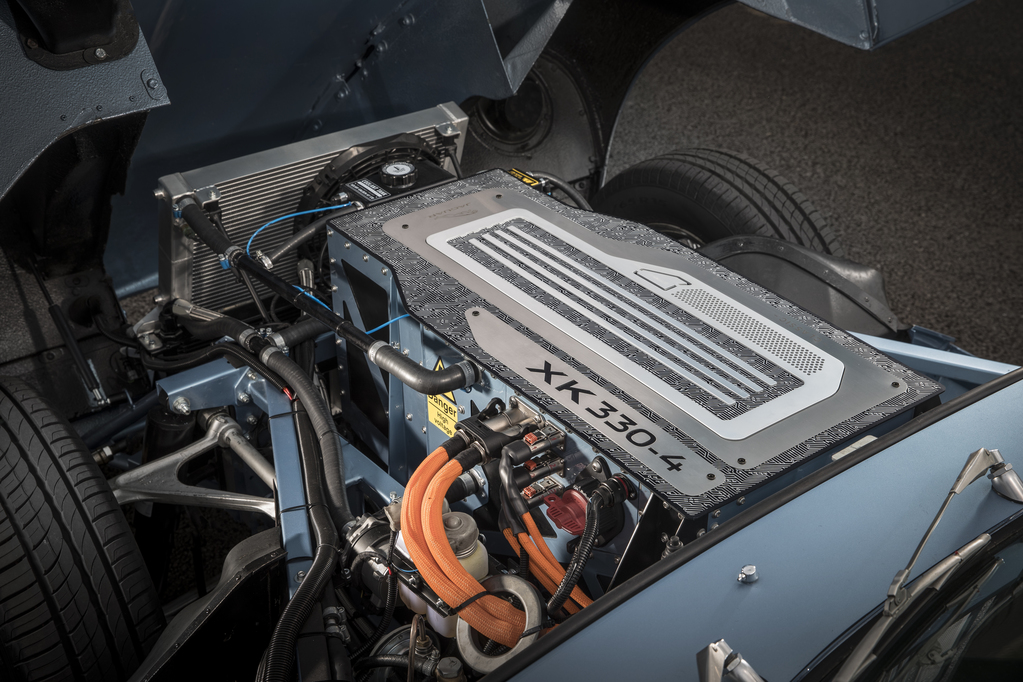 Undoubtedly, some E-Type fans howled, "Heresy! Who would do such a thing to one of the world's most revered sports cars?"
Jaguar, that's who.
Jaguar, you may know, will be the first old-line luxury brand to market with an EV, the I-PACE, this fall. Meanwhile, the company is taking a serious look at helping preserve its classics in ways they could be enjoyed for decades to come, regardless of regulatory changes and fossil fuel supplies.
You read that correctly: Jaguar might build one for you. Jaguar Land Rover Classic Works, the division responsible for restoring the company's classic models and building the Lightweight E-type and XKSS continuation models, built the E-Type Concept Zero as a proof of concept.
"Our aim with E-Type Zero is to future-proof classic car ownership," said Tim Hannig, Director of Jaguar Land Rover Classic. "We're looking forward to the reaction of our clients as we investigate bringing this concept to market."
To that end, Jaguar has already said the electric powertrain it developed for the E-Type Concept Zero could fit any Jag built that uses the XK inline-six engine. That includes the XK120, 140 and 150 sports cars; the Mk. II compact sport sedan, XJ6 and others.
Eye on the Future, Respect for the Past
Jaguar approached the E-Type Concept Zero project with great respect for its marque heritage. Hannig reassures that the original 4.2-liter inline six and 4-speed transmission could be swapped back in if desired. The E-Type structure was not modified, and the Concept Zero retains the restored car's differential, suspension and brakes.
The 220kW (295 hp) electric motor, which makes more horsepower than the original gas engine, is not what you see when you raise the hood. Occupying the space vacated by the engine is the 40-kWh lithium-ion battery pack, packaged in a box badged "XK330-4. "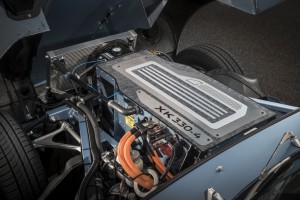 Behind that, the electric motor and reduction gear take the space of the deleted transmission. Electronic control components, including some from the new I-PACE, are installed where the fuel tank used to be.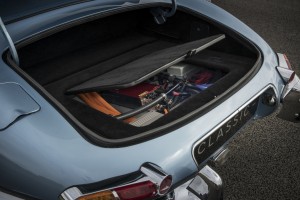 Remarkably, vehicle weight was actually reduced by about 100 pounds, and front-to-rear weight distribution remains the same as the original model. Jaguar assures that the E-Type Concept Zero drives, handles, rides and brakes like the gas-fueled E-Type. It is, however, faster, doing 0-60 in about five seconds, or more than a second quicker than with the gas engine. Top speed is limited in this installation to 100 mph. Jag says a full charge, which takes 6-7 hours, provides about 170 miles of range.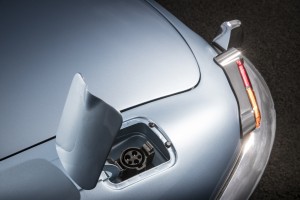 For this concept, Jaguar updated the E-Type cockpit with a carbon-fiber pod featuring digital instruments, plus modern climate control and entertainment systems. Externally, it's all E-Type except for LED headlights – and no exhaust pipes, of course.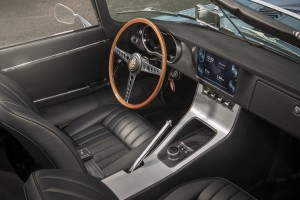 Electrified Classics: An Emerging Trend?
Some purists may cringe, but Jaguar is not alone in exploring EV retrofits for classic cars. EV conversion kits for rear-engine VWs have been around for years. And, how about an electric Ferrari? A production version seems inevitable, but in the meantime, California-based Electric GT (www.electricgt.com) has already shown its converted 1978 Ferrari 308 GTS, built, ironically, from a car that had caught fire when gasoline leaked. The "308E" retains the stock 5-speed manual transmission and will leave the gasoline-fueled version in the dust.
EV conversion can work for just about anything. Legendary rocker Neil Young had his beloved 1959 Lincoln Continental converted to electric power, calling the result LincVolt. He's covered more than 55,000 miles in the electrified land yacht.
Jaguar's electric E-Type is sure to stir differing opinions. At the same time, it makes clear that Jaguar wants people to enjoy the marque's classic models for a long time to come.
Why you'd want a Jaguar E-Type EV:
Be the first on your block.
Best-looking electric car ever.
Carpool lane privileges.
The jaws dropping when you zoom silently away.