It was just another fine Sunday afternoon to enjoy seeing some fine cars and good food at the 2015 Greystone Mansion Concours d'Elegance on May 3rd in Beverly Hills, California. The organizers put on a great show and these events are typically a lot more work than might appear to the public but the efforts paid off because we saw some very special cars. Each year the show gets better and we were impressed by the line-up of sponsors, the booths selling books, posters and automobilia, the food and the shuttle service to and from remote parking areas.  The latter is a great idea especially on the very hilly residential streets around the mansion.  The Mansion itself is a spectacular and very interesting venue with a lot of history and a dedicated management team who look after the site.  It's a lot of work and they have big plans for the future.  Well worth a visit anytime you are in town.
The quasi-residential venue lends a certain intimacy to the event.  Having the ability to explore the mansion itself along with the gardens and hidden spaces is a real treat.  The view of the Los Angeles basin is also quite spectacular.
Some of the cars from the show are highlighted below.  Also see our Gallery section for additional automobiles.  These vintage cars are what keeps us going here at Vintage Driving Machines and we are grateful to the exhibitors for sharing them with us and to the venue and sponsors for their hard work and support of our passion.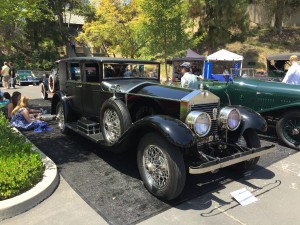 Dr. David Morrison's 1923 Rolls-Royce Silver Ghost has a very unusual closed body with coachwork by Merrimac. It's high belt-line and short windshield results in a very balanced styling and Morrison informed me that it is quite comfortable for touring.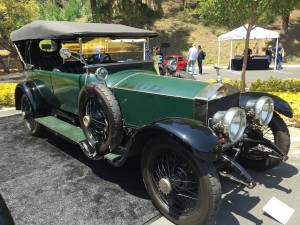 Auctioneer David Gooding's brought his Rolls-Royce 1914 Silver Ghost and it is a very original car in fine running order. What a treat to see these early vintage machines out and about!
Have a look at Jason Shepherd's Porsche 914-6.  Buy one while you can….the 914-6's are very special and prized for their excellent road manners and added power.
Ara Rostam brought this '55 Buick Century and it has an amazing color scheme that soothes just looking at it.  Bet it's fun to drive as well.
Richard Stanley showed this Cadillac Fleetwood El Dorado Convertible which brought back memories for me. My first car in the States was a Cadillac Fleetwood Brougham. Much better as an open car, I imagine.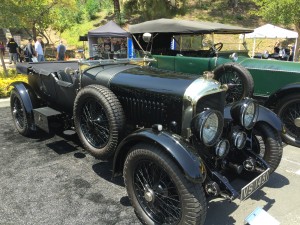 Bruce Meyer brought his 4.5 Liter Bentley Vanden Plas Tourer that is outfitted just as a Bentley Boy would have it.  I suspect this car will bring much joy during extended touring events and it really moves along, so keeping up will not be an issue.  "Never Lift!"
Peter and Merle Mullin exhibited their curvaceous 1951 Delahaye Type 235 Cabriolet.  If you like French cars, and who doesn't, be sure to check out the Mullin Automotive Museum in Oxnard, CA.  No visit to Southern California by an enthusiast would be complete without a short run up the coast from Los Angeles to see their all-French collection.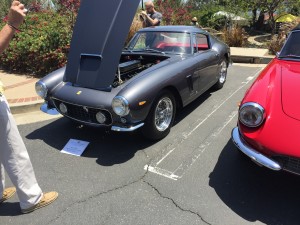 Bob Cohen's Ferrari 250 GT SWB just had a color change from yellow and it is awesome in grigio as you would expect because it was prepared by a collaboration of Steve Bonowski's Hot Rods and Hobbies and Rex Nguyen Restorations…a formidable team indeed and the panel fit and surface finish were remarkably perfect.
The Auto Gallery, a major sponsor of the event, displayed this Pagani Zonda which I would sell every vehicle I own to buy, if only the math worked.  Sadly it doesn't.