Late model Ferrari pricing and values
(Based on observed asking prices at the top dealers)
May 2015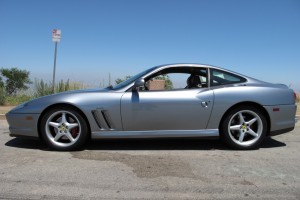 If you are looking to buy a late model Ferrari, authorized Ferrari dealers along with top tier exotic car dealers, will tend to offer some of the best cars available. All these dealers have a choice in what they want to put on their showroom floor amongst their new car offerings and that means they are going to be very discriminating in favor of only the best cars.
However, as in the case for all transactions involving pre-owned cars, it is up to buyer to satisfy himself or herself that the car is inspected so that any significant issues can be discovered. A pre-owned car will usually have some wear and it may no longer be the subject of manufacturer's warranty, so inspection for the purpose of understanding the condition is a must. Buyer must establish early on what faults or blemishes are acceptable.
Vintage Ferraris are in a world of their own so we leave coverage of those models to others more qualified.
In the late model Ferrari market, there are some interesting opportunities to acquire significant cars, sometimes at attractive prices. Asking prices for low mileage, mint condition, or highly optioned cars are at a premium. Even in the modern age, highly customized new car ordering schemes lead to situations in which not many are made with certain features. Based on data sourced from the top dealers here are some patterns that emerge regarding pre-owned Ferrari automobiles:
F355 Spiders are in a range of $65,000 to $105,000. The outlier is a Fiorano edition available at Marshall Goldman for $259,900.
360 Modena Coupes are in a fairly tight range of $80,000 t0 $90,000 with an outlier at $120,000 offered at Ferrari of Long Island. That car is black on black with Daytona seats, very low miles and manual gearbox.
360 Spiders. Newport Beach has a manual gearbox Spider with 5436 miles and they are asking $130,000. Otherwise there are Spiders available with a range of $85,000 to $125,000
The 360 Challenge Stradale has gone ballistic. Just a couple years ago these were in the 100's now just one is available at $279,000. Black over red and 1784 miles on Long Island. Yes, later cars are faster but rarity and light weight will always be trump.
456M GTA. Two of the automatic gearbox 456M's are available with an average price of $69,400. This is the entry level point for V12's with four seats and a terrific way to enjoy the Ferrari experience with the family.
Thirty-three F430 Coupes are available with a mean price of $144,000. 2008 edition Coupes with manual gearbox will bring strong prices as does the top priced car located in Washington DC offered at $199,985. It's Giallo Modena with Carboceramic brakes, yellow calipers and 5476 miles. Below that particular car the range is $126,000 to $163,500.
Forty-eight 430 Spiders are available at generally $5K to $10K more than their Berlinetta counterparts. Mean price is $151,400. The range is $119,000 to $175,000.
The 430 Scuderia continues to impress with very strong values at this time. These cars were introduced near the height of the recession and while our brains were distracted with bad news, Ferrari teed up a spectacular successor to the Stradale with even more extreme performance. The Scuderia models have it all…giant Carboceramic brake discs, acres of carbon fiber and a wonderful edgy styling and much less weight, but more power than either the Berlinetta or Spider. You rarely see aftermarket stuff on the Scuderia…the factory just nailed it. Of interest, prices of early examples of the 458 Italia have begun to dip under Scuderia asking prices. Currently eight are available at the dealers with a mean of $213,000. The range is $179,000 to $280,000.
Just one Scuderia Spider 16M is available at $299,900. With limited production and open top styling on the exciting Scuderia theme it is destined for sustained collectability over the long term.
A solitary 550 Maranello was recently available in Lake Forest, IL. Offered at $139,900. Sold. Didn't last long….a few days. Yes the V12's are also moving along. V12's with manual gearboxes are suddenly pretty scarce and the good ones are in hiding. My nearby dealer informed me that he bought one for himself recently and that is saying something. Well-kept cars with any combination of Carbon interior bits, Fiorano Handling Package and quilted leather shelf/roof will bring strong dollars.
Open top 550 Barchetta's have higher asking prices than their later Superamerica counterparts. See, it's not always about speed, mechanical improvement or newer equipment. Asking prices average $539,900 for the two available at this time. Newport Beach and Plainview, IL.
There are six 575M Maranello F1's available carrying an average ask of $131,700 and a range of $119,900 to $159,900. There are no 575M's with manual gearbox available at dealers; private sales of the stick have reached $240K based on recent reports and online chatter. Not surprising; just 246 were equipped with the manual transmission. Ultra-rare 575M's with 19-inch modular wheels, the HGTC package and stick shift could likely soon be at or near $300K based on current trajectory and rarity; similarly equipped F1's will be very strong as well.
Two 575 Superamericas are on offer with average ask of $479,945. Super-low mileage on both cars. The higher priced car is equipped with the Carboceramic brake package.
Twenty-three 599 GTB's are on offer around the U.S. All F1 paddle-shift equipped. Average ask is $202,600 but median is lower at $180,000 and mid-range is $239,900 reflecting wide disparity in pricing based on year and options. Low is $160,000 in Portland. Lot of car for the money and super-car performance to boot. Examples fitted with the HGTE package are particularly desirable though tending to be at the higher end of the range.
No manual gearbox 599's are available at dealers. People are still talking about the March auction result of $682,000. Was that an outlier? Time will tell. Last weekend's Villa Erba RM Auction event saw another of the 20 manual transmission cross the block at ~US $393K. As of this writing a seller in Bellingham has a 599 GTB with manual gearbox with an advertised 15,000 miles up on Ebay with a starting bid of $550,000…no takers as yet with 4 days to go.
Three 599 GTO's are tightly priced around an average of $735,000 and that's about right but moving up rapidly. The exhaust note of this car!! And what other Ferrari GTO's are under $1 million? Right, none.
The 599 SA Aperta is on a different planet as it should be. This open-top version of the 599 is fitted with the GTO's engine (i.e. 661 horsepower) and a number of unique features. Only 80 were built. One is available at $1.6 million at Newport Beach. Hurry!
612 Scagletti examples have depreciated dramatically from new and many believe they are now a buy. There are eight available with a range of $86,000 to $139,900. Mean price is $115,600. The 612 is a fast comfortable and practical cruiser that many use a daily driver inasmuch as there are four seats. In many ways prices are ridiculously low for what you are getting.
Enzo values have been trending up. The stunning styling has aged gracefully these last twelve years and nothing else on the road looks like it. Two are currently available at $3.0 million and $2.699 million, the latter at Fort Lauderdale.
All of these mid-engine V8's and V12's represent attractive offerings from Ferrari and based on my experience they do not get old. Just don't look at the Speciale or F12 and you'll feel OK. If you plan and budget accordingly the cars are very satisfying and in the opinion of many experts and owners it is ideal to buy the very best car you can find. Hard to argue.