Gated late model 6-speed Ferraris are going faster.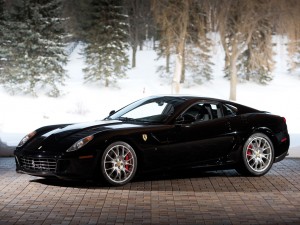 It's a fact.  The supply of late model manual-gearbox-equipped 6-speed V-12 Ferraris has dried up before our very eyes. And those that are available are selling fast and at stratospheric prices.  This theme was punctuated nicely this past weekend at the RM Auctions Sale at Amelia Island, where a 2007 599 GTB fitted with the manual gearbox sold for a lofty $682,000 all in. Yes $682,000…not a typo! Offered as 1 of just 20 built, a nice little premium was extracted and bidding was lively up until the end so that was a good sign if you own one.
Was that a surprise?  Well the reserve was less than half that…so you decide. Theoretically the seller would have sold you the car for around a tidy $300K if you had written him a check 6 months ago.  Didn't have the nerve?  You're not alone.  How long will it last?  Is it a bubble?  Who knows!  I don't care.  It's a lot of fun to watch and if you've got a stick, do hang on!  Perhaps as interesting will be the offer price for the next one that comes to market.  If you are one of the lucky 19, your mobile will soon be ringing with offers.
The manual 575M is also a rarity and prices are being seen at double the F1-equipped cars.   Recent prices are approaching original sticker ($250K+) and is that a shocker?  Don't think so.  Reportedly only around 246 manuals were built.  You could have purchased these cars for about a little over $100K just 3-4 years ago.  For the 575M, the Holy Grail would be stick shift + HGTC package including Carbon Ceramic brakes and 19 inch modular wheels.  Zoom!
What about the 550 Maranello?  They were all gated.  Same market fervor?  Not yet, but when was the last time you saw a perfect 550 being offered?  People are holding on to the best ones.  The next exceptional 550 or 575 stick at auction will likely surprise many.
Folks, when the prices begin to move there is no advance memo; just a sudden gap up that leaves us the impression that buyers are irrational, that it's a bubble, etc. etc.  It has happened before and will again.  The market is working and a vibrant public sale is the best place to see it at work.
Terry Sullivan, Los Angeles, CA
March 19, 2015