Mercedes-Benz 280 SL: Beautifully Practical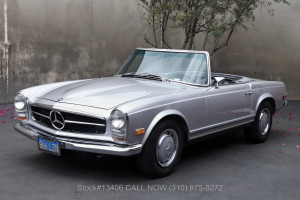 Should you be suspicious when you see the word "practical" used to describe a sports car? When a carmaker refers to a model as a "four-door sports car" or "the sports car of SUVs," your leg is being pulled. It doesn't matter how well a sedan handles or how fast an SUV is, neither is a sports car.
At the same time, a two-seat convertible is not automatically a sports car. A Cadillac Allante is not, nor was the 1955-1957 Ford Thunderbird, really. That's not denigration, by any means. Each of those filled a role as a personal luxury cruiser.
Where does that leave the 1968-1971 Mercedes-Benz 280 SL? It's probably safe to put this unique roadster in the sports car category, yet this is one where you can legitimately apply the "practical" term. That was true when it was new, and perhaps more critically, is still applies a half-century later.
Today, a 280 SL – along with the earlier 230 SL and 250 SL that used the same body with smaller-displacement engines – makes for a practical collector car. That is, it's still an eminently enjoyable car to take on longer drives, offering the comfort and trunk space to be a great weekend getaway car.
Hitting the Sweet Spot
For 1963, Mercedes replaced both the high-end 300 SL roadster and its lower-priced, four-cylinder companion model, the 190 SL, with something in between: the 230 SL. Designed by French-born Paul Bracq, the W113-series SL was less expensive and easier to live with than the 300 SL, and offered leaps in performance, comfort and overall driving pleasure over the 190 SL.
Power came from a 2.3-liter inline six with mechanical fuel injection, making 150 horsepower. (That was by the European DIN rating, which was a more realistic than the SAE gross rating system used by U.S. carmakers until 1971). A 2.5-liter version made it the 250 SL in 1966, and it became the 280 SL with a 2.8-liter engine in 1968. There were numerous other improvements along the way.
In all cases, the body was the same, and it was one of those that defined the unique Mercedes design philosophy. It was not a striking look, like a Corvette Sting Ray or Jaguar E-Type, but it was more modern and sophisticated than the Austin Healey 3000.
Most critically, the W113 SL was instantly recognizable as a Mercedes. Parked alongside the 600 ultimate luxury sedan that Mercedes also unveiled in 1963, the little SL looked instantly part of the family. The similarities in the slab sides, headlight design and even the contours of the trunk lid and taillights were remarkably similar.
Today, these SLs do appear striking for the purity of its lines and the elegance of its details. One of those was the concave center section of the detachable hardtop, which gave this series its "Pagoda" nickname. The unusual shape was a contribution by Mercedes safety engineer Béla Barényi to add strength in case of a rollover.
A Sports Tourer at Heart
One did not buy a 230, 250 or 280 SL to race Corvettes, 911s or E-Types. It just wasn't that kind of car. The six-cylinder engine topped out at 170 horsepower in the 280 SL, which weighed in at just under 3,000 pounds. That was perhaps 500 pounds heavier than similarly sized roadsters from Britain or Italy, but the extra heft was a result of the typical Mercedes built-to-last-forever quality.
A four-speed manual was standard, and some 60 percent of 230 SLs had it. Air conditioning was not available on the 230 SL, but it was on the 280 SL. Many of these were equipped with the optional four-speed automatic. A few 280 SLs had the ZF five-speed, which is a real treat, but perhaps not fully in character with the car.
The swing-axle rear suspension could make for tricky handling in fast cornering, but you're not likely to drive one of these SLs in that manner, anyway. A 280 SL could do 0-60 in 8.6 seconds, according to Car & Driver. That was good for a European roadster at the time. More critically, the high-torque six made the 280 SL a joy to drive every day, and with Mercedes comfort, that was something to look forward to.
For the record, Mercedes made just under 24,000 280 SLs. That's in addition to just under 20,000 230 SLs and 5,200 250 SLs.
Why you'd want a Mercedes-Benz 280 SL.
Even after half a century, it keeps getting prettier.
A better car to drive than a 190 SL, for less money.
Great for those long-distance road rallies and tours.
Parts are plentiful (though pricey).