Tips for Importing a Classic Car from Europe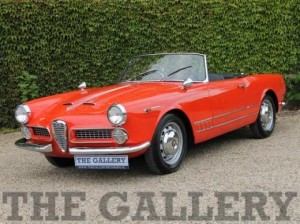 It may surprise you to discover that if you find the perfect car to add to your vintage auto collection in Europe, that is the easy part and actually getting it home can be an adventure all its own.
If it is your first experience importing cars from Europe, set aside plenty of time and several thousand dollars to deal with tasks such as shipping, taxes, import duties, customs and a great deal of close governmental scrutiny on both sides of the Atlantic.
First of all, it is highly advisable to start early in arranging quotes from appropriate customs brokers, freight forwarders and shipping agents who can demonstrate extensive experience working with all the nuances involved in transporting fragile, valuable and unusual cars. Customs brokers in particular will save you a great deal of anguish, unless you intend to spend the next few months studying the intricacies of U.S. customs laws, DOT safety regulations, EPA guidelines and idiosyncratic EU directives. Despite the overall trend toward standardization of EU legislation, there remains a great deal of variation in local procedures, fees and oversight in regard to classic cars.
A professional customs broker will post a bond against all the potential fees necessary at the federal, state and local level. After you have closed on the purchase of your dream car, your chosen customs broker will kick-start the process by filling out the substantial stack of forms required for the process to go smoothly. For example, if a car is more than 25 years old, it is normally exempt from many of DOT and EPA requirements for road-worthy vehicles. However, there are countless details that only a dedicated and experienced customs broker can verify.
The next step is comparing bids from shipping agents that specialize in safely securing the automobile inside a container for transport across the turbulent ocean. Because the parts may be irreplaceable and the value of the car is on the line, the entire operation must be handled with extreme finesse. All the critical details, such as completely draining gas from the tank and disconnecting the battery, must be attended to with meticulous detail. Only a shipping agent with experience in handling classic cars will know where to concentrate their attention.
Finally, the freight forwarder is responsible for shepherding your investment from its specially constructed container to its final destination. The "last mile" requires the utmost care and precision so choose a specialized carrier as general transport professionals tend to have much less experience with vehicles under these conditions.
In a New York Times article on collectible cars, the author detailed what he encountered as a first-time importer of a vintage 1969 Giulia 1300 TI by Alfa Romeo. The article described the adventure of buying the car in Italy and touched on importing the car from Rome to San Francisco. Costs can add up quickly based on the initial condition of the car, what kind of work is required for secure shipping and final transportation costs from the U.S. arrival port to the receiver.  This particular enthusiast employed the services of the Ted L Rausch Company.  It certainly makes sense to utilize the services of experienced professional broker such as this one who can handle all of the details so that the buyer need only worry about how and when to start enjoying the car once it arrives at hits new home.
A lot of very cool and unusual vintage cars are located outside of the United States.  Many collectors have not been shy to make purchases abroad and to ship their cars home.  Using the right services you can do so as well.  If you make a wise purchase of the vehicle overseas getting it home need not be a hassle if you make the right moves.
Finally, it should go without saying, but we're saying it anyway, that buyer also needs to take appropriate precautions to ensure that upon arrival the car will be able to be safely and satisfactorily operated and to be registered in the States:
Ensure that you can acquire proper clear title and that payment transfer and title exchange is handled with integrity.
Inspect the vehicle for mechanical defects and safety defects in particular.  If the car has some issues and you want it anyway, then budget accordingly for repairs and modifications to bring it up to the necessary standard for import and use.
Consider making a trip across the pond to execute the transaction and deliver the car to the shippers yourself. That might provide a measure of satisfaction and also provide opportunities to source any needed parts from local suppliers.
Many of the European specialist classic car dealers such as The Gallery Brummen and Oldtimer Farm and all the major auction houses typically have experience selling to overseas buyers and they may be able to assist with transportation/export.
Discuss the prospective purchase with your insurance agent before you buy.
Budget for appropriate sales taxes, if applicable, in your state of residence.
A lot of the wonderful vintage cars on our website are from overseas sellers and a quick look will illustrate that unusual and rare classic s are waiting for new buyers all over.  Have fun!